The logo is an important part of the Academy Europe brand identity. Visual consistency is paramount. Academy Europe logo is inspired by European Union flag. The colors of logo consists of gold and navy. Academy Europe is presented with two types of logo:
Principal Corporate Logo:

The preferred application of our corporate logo is full color. The logo consists of two words which are "Academy" and "Europe" refer to the name of our brand. The shape of circle stars is inspired of European Union flag.
Principal Certification Logo: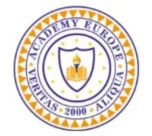 The preferred certification of our logo is black and white color. This logo is employed to authorize certificates and diplomas of Academy Europe. the middle of logo shows education passion by represented book and flambeau which are surrounded with European stars. the emblem consists of three words which are "Academy Europe", "Veritas" and "Aliqua". Also certification logo has our established date which is "2000".